Sgt Emoslayer is a long term and dedicated member of the clan. Sgt is one of our younger members but generally carries himself with a level of maturity that seems quite older, until you get to know him ;-)
Sgt Emoslayer is highly skilled in World of Tanks, his only handicap is a stern houshold CO who limits his ability to deploy to the virtual battlefield with us.
Besides meeting the demands of his taskmaster CO, he enjoys Emo slaying, learning Engrish, and showing his L337 World of Tank skills by driving a bright pink BT-7 against tier 9 and 10 tanks, while listening to Hall and Oates cranked up to level 11... afterwards most likely taking part in a game of topless beach volleyball.
116th Lore states he has Rick Rolled the Clan Leader on several occasions but does not top the leaderboard in this heinous activity.
Sgt Emoslayer's Avatar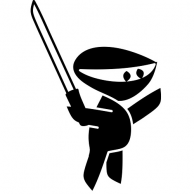 "Mine's a ninja, because ninjas are awesome, like me. Did I mention I'm also a ninja? Yep. I'm awesome". - Sgt Emoslayer