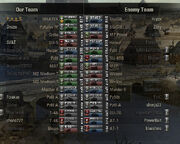 There are a number of helpful mods and fixes for World of Tanks. You will find a selection of them here:
Icon Mods
Edit
A very popular icons mod is PogS icon mod, which adds armour (front, side and rear) stats, tank names and tank tier and type to the symbol of enemy tanks. This is VERY helpful when you go up against some of the less usual tanks and will allow faster threat assessment.
PogS icon mod European server thread with download links
Performance Mods and Fixes
Edit
If you are running World of Tanks on an older computer, you may not load in time for the battle to start. This may be due to your Antivirus scanner (check if there is a gaming mode available or temporarily disable it at your own risk) or is simply down to the speed of your computer. For the latter, a few mods exist:
This compressed texture mod will reduce the load on your PC, especially your RAM and still look better than the "low" settings without the mod.
There is also a colourbling mod, which helps if you have difficulty distinguishing green (allies) and red (enemies) from each other.
Other Mods
Edit
This mod is really only useful if you are working on a video. It removes all HUD elements.